Colliery Alick
(Stoneriggs Alick x Colliery Tonie Ann)
Looking to breed for the show ring? Davidson Dales proudly stands Colliery Alick, a 1996 DPS and DPSA registered stallion imported from the famed Colliery Stud in England. A 5-time Grand Champion M&M Pony, Alick earned his first Championship and "Reserve Best in Show" under UK judge Simon Bigley at the 2006 Welsh Pacific Coast Classic and did it again at the 2007 West Coast Connemara Show under UK judge Linda Impey. This talented and athletic pony also had a successful career in carriage driving and the jumper ring prior to his retirement in 2012. Alick is a kind, intelligent, and playful pony, is easy to train, and enjoys competing.
His "kids" are also making a mark in the show ring: Bickerdike Canadian Storm is a 2-time Grand Champion M&M pony; Bickerdike Expresso Magic is a competitive Jumper on the "A" and "B" hunter/jumper circuits; Davidsons Black Shaman is a 6-time Champion M&M pony and has shown at USDF rated dressage shows with scores to 76%; Davidsons Dark Enchantment is a 2-time Reserve Champion M&M pony and Champion English Pleasure pony.
Alick is tested FIS-negative and available via frozen semen to purebred Dales mares only. We have a greater than 90% first time conception rate with his frozen semen. Learn more about Colliery Alick's show record at www.DavidsonDalesPonies.com. Email: info@DavidsonDalesPonies.com.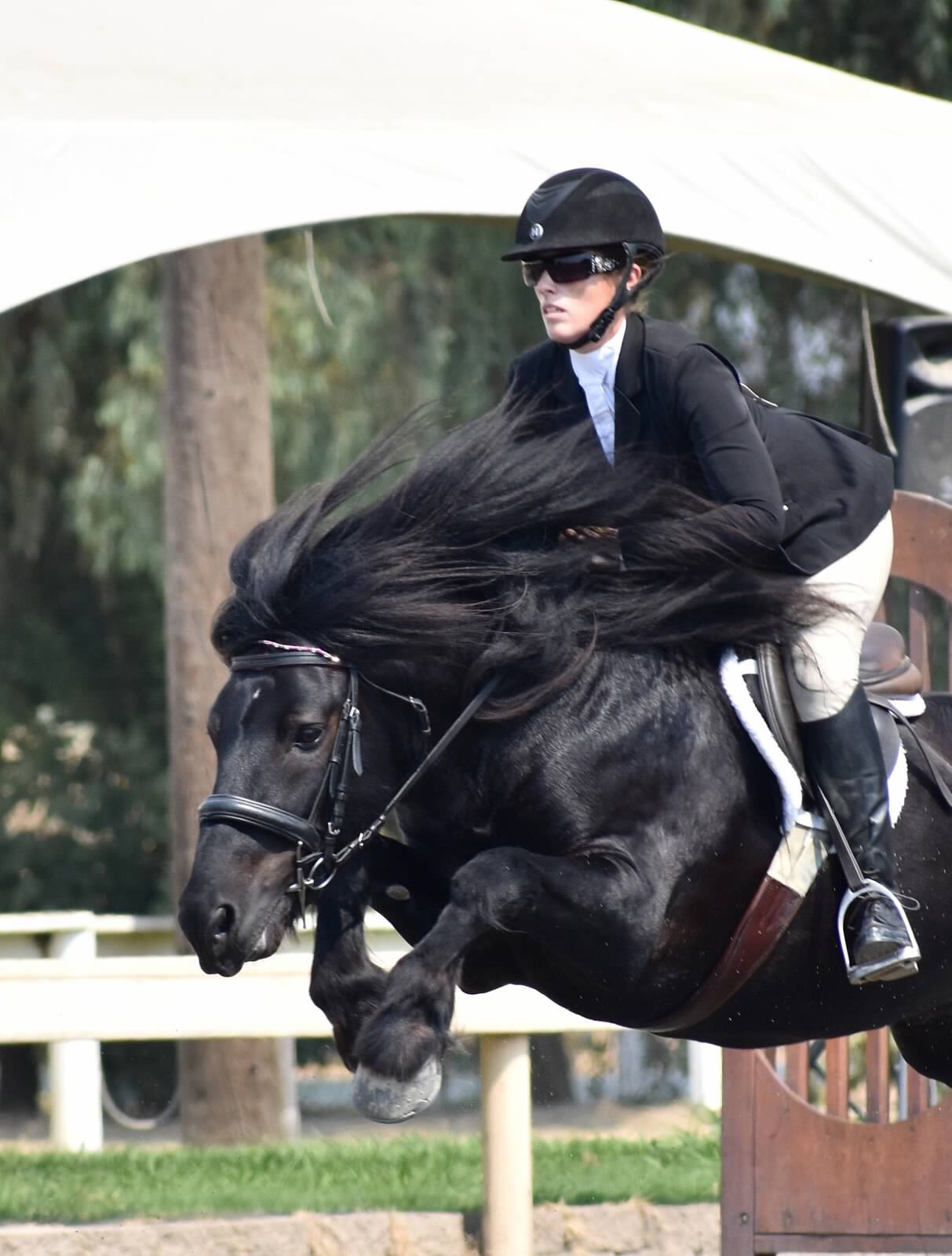 Davidsons Black Shaman
(Colliery Alick x Redprairie Rose)
Raven is a 2009 black Dales stallion standing at Sterling Farms in Livermore, California. Raven is DPSA licensed and tested FIS clear. He is a lovely example of the breed with true Dales type, movement, and temperament. Raven is a 6-time M&M Grand Champion; his most recent wins were at the 2018 Santa Barbara National Horse Show with a unanimous decision from both judges. He has performance championships on the flat and over fences, and has shown at USDF rated shows with scores to 76%.
Raven passes on his beautiful conformation, outstanding movement, and lovely temperament. His progeny are already winning in-hand under both US and UK judges. His 2014 filly, Sterlings Total Eclipse (Davidsons Black Shaman x Canadale Black Magic), was Champion M&M Pony at the 2014 Welsh Pacific Coast Classic. Raven's foals are very easy to start under saddle, and his oldest filly should be starting her performance career in 2019.
Raven is available through AI only. Stud fee for registered Dales mares is $1000 and includes booking fee and first collection. Raven is also available to select mares of other breeds and crosses well with Dressage type Warmbloods. Stud fee for non-Dales mares is $2000. Live foal guaranteed. Contact: AdrienneGrasso@Yahoo.com.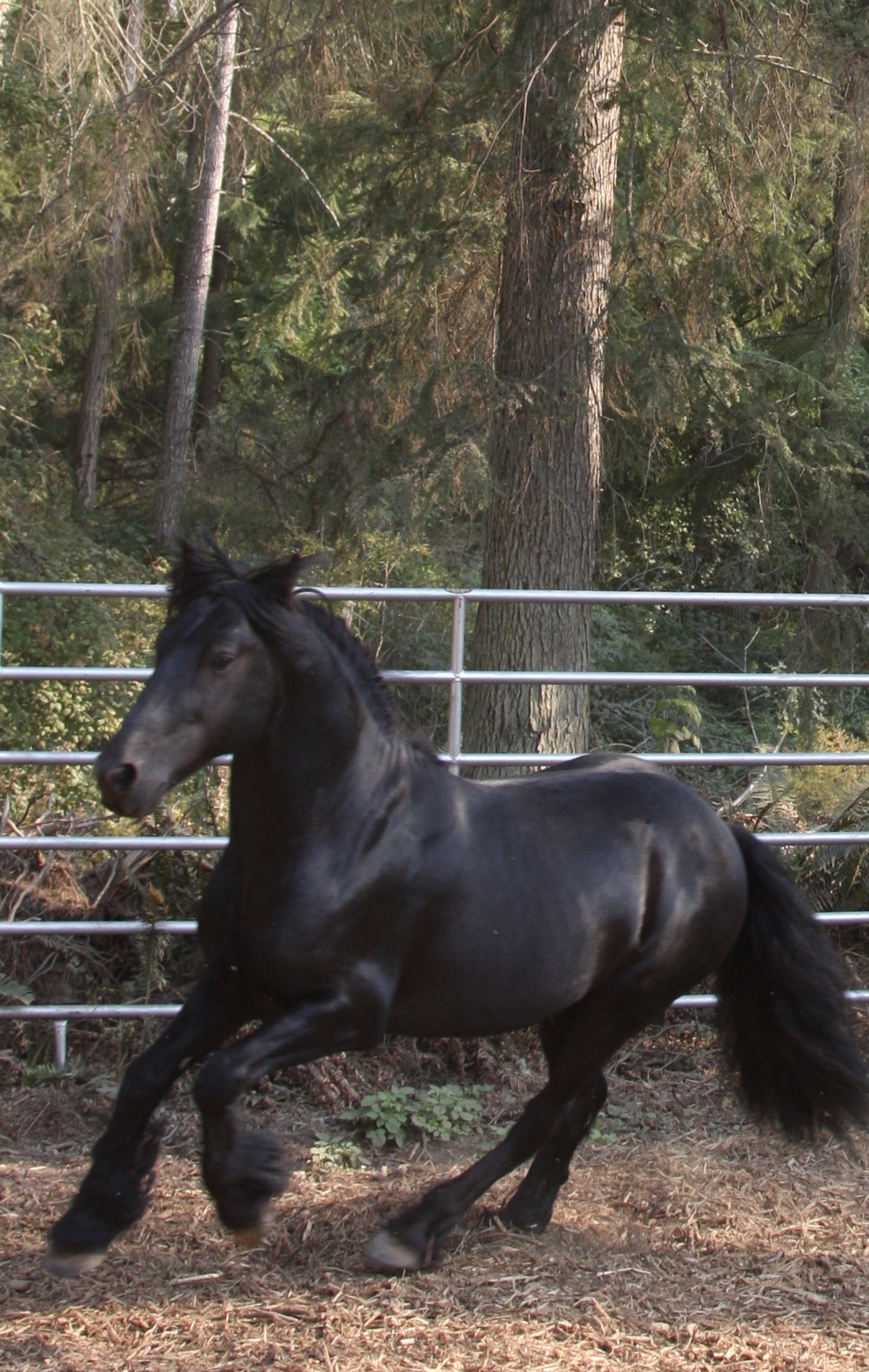 Kingmaker Talisman
(Thornville Pride x Manorian Moonstone)
Cascadia Heritage Farm is standing Kingmaker Talisman. Imported from France, Taz stood at Raspotnik Farm until 2018. His offspring Raspotnik Mari, Raspotnik Jasper, Raspotnik Clive can be seen on YouTube. Taz is kind, friendly, willing, and sure-footed, with a compact, powerful, athletic 14-hand frame. Taz's sire Thornville Pride had 93% Wheatside bloodlines. Taz carries on the rare, valuable Wheatside bloodlines for this critically endangered breed. His dam and full sister had successful show careers in the UK.
He is DPS and DPSA registered and is FIS negative by parentage. He is available via live cover, and shipped frozen semen is available through Washington State University College of Veterinary Medicine to purebred Dales mares and to non-Dales mares to add strength, bone, and his steady Dales temperament to other genetic pools. Fresh cooled semen could possibly be arranged - please contact if interested. He stands on Whidbey Island in Washington State. We will offer a live foal guarantee. Stud fee is private treaty. Contact Shuna Cerrato, DVM at cascadiaheritagefarm@gmail.com for more information.
Search "Kingmaker Talisman" and "Taz" on the Dales Pony North America Appreciation Page on Facebook for more photos and videos. Website CascadiaHeritageFarm.com coming soon!